Well, it is possible that you get the best online hotel booking offer, best transportation services, best food, and best landscape while traveling to popular travel destinations. But when it comes to mysterious places, you will not even find a friend who would like to join you on this venture. Well, there are people who like to visit such places because according to them such places are adventure and should be explored. If you are one of those people, then this article is best for you because we have compiled those unexplored and mysterious places around the world that are almost unknown to normal people living in big cities. Let us start with the list now.
1. Richat Structure of Mauritania
Richat Structure, Mauritania is the structure that is turning and twisting continuously in the famous Sahara Desert. It is known as one of the most mysterious locations in the world because spinning and swirling are colored and unusual to the onlookers. Not even the scientists are able to find out the nature of these rings and are still trying to find that out.
2. Bhangarh Fort in India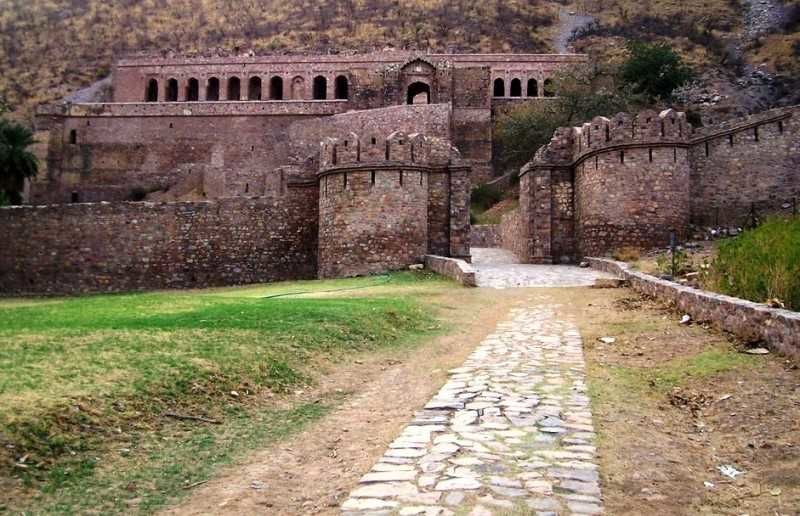 This fort is surrounded by the hills and the sun that rises here is very sharp because it is located in Rajasthan, a desert in India. This place is known as the cursed place because of some princesses in the past. Also, the wizard Sinha is known for murdering her. If you think about visiting this place, then there is no problem to reach here, but the way to enter it is not easy because there is no one around to help you in entering and leaving it. So, it can be a little dangerous. It is considered as one of the most mysterious places in India that are haunted by the soul of that princess that was killed and cursed long ago.
3. Banff Spring Hotel in Canada
This hotel in Canada is known for its mysterious happening when people come for food here or even those who stay here for days. There are stories of ghosts at this place that clearly depict the mysterious nature of this hotel. It not very old, so that cannot be said that due to its old presence the ghosts are living here. Also, it was not common in the past but it has become today where there are shadows of mysterious things in this building. A story is famous in this hotel where the whole family was murder and then the guard at this location also vanished in front of people's eyes. A thin layer of air was seen into which that person disappeared.
You May Also Like: The World's Best National Parks for Wildlife
4. Eternal Flames in the USA
In Shale Creek, this mysterious place is found after a very long time. It looks very beautiful, but it is not a place where you can visit all alone. It is frightening because of the red-light color here under the waterfall and along with that, some voices are also heard by the people who come to visit. Not many people try to come here.
5. Crooked Forest of Poland
In the year 1093, almost around 30 cooked pine plants were planted in this forest. All of them are a crooked shape that makes this forest very unique and mysterious. The vibe is mysterious, else it is beautiful. There is almost 400 pine three over there so they make a big portion of the forest. The reason why they are made into such shape is explained by people in two ways. According to one group, it is like this because humans have used such a tool to make them grow this way. Another group is of the view that some kind of snowstorm in the early stage of their growth might have led to the development of this shape of these pine trees.
6. Skirrid Mountain in Wales
This is located in the stone village of Wales, and it was once a courtroom in the past where many people where hanged to death. Even there are stories that a judge was also prosecuted at this place after that the system was shifted to some other place. After that, it is not much visited, so this now becomes a mysterious haunted place. Many ghost stories are also popular for this place and the people living around this place tell such stories to those who try to visit this place.
You May Also Like: Common Travel Mistakes You Are Probably Making
7. Bermuda Triangle of Atlantic Ocean
Well, the Bermuda triangle is the most popular mysterious place in the world. It is told by people that this place has engulfed ships, people, airplanes, and much more. It is commonly known as the Devil's triangle where anybody who tried to go is never found back. It is also unknown that what kind of force is taking that is doing that or what is attracting even the biggest of things towards it. In many aces, when research has been done, it is said that it is the cyclones that are the culprit for this, but soon it was rejected because there has been no storm in many cases when things disappeared from this place. If you want to visit this place, then precautions have to be taken and also try to stay away from it or else you will also not come back.
8. Nazca Lines in Peru
In the South American region of Peru, the Nazca lines are located and these are the most mysterious remain of prehistoric times. No much is known about these lines and pace till now, but it is very unusual and mysterious for people who travel to this place.
You May Also Like: Top 14 Cities to Visit in south America
9. Island of Dolls in Mexico
It is told by the locals of this place that some girl was once lost at this place and then died under some unusual circumstances. So, in the wake of that girl, it is filled with dolls at the tree trunks. In the southern region of Mexico, the trees are basically decorated with the dolls that might not look like the normal attractive dolls. These dolls have no eyes, bad condition of the head and much more. So, by looking at them, you fee the fright and also the sadness of what happened to that little girl. Many people living in the vicinity of this place tell the stories that they sometimes listen to the sounds and voices that call them to come down the island and visits them. It is quite frightening, but if you want then visit this mysterious place for sure.
10. Tower of London in England
This comparatively dark spot in the northern region of England has this tower standing all alone in the region. It is told that there are many ghosts living here that are haunting people when living in the vicinity. There are many incidences in which the famous saint of the past is also seen by people. It is said that the grave of that saint is connected to it and that is why it is very mysterious.
You May Also Like: How to Spend a Week in London
11. Transylvania in Romania
It looks like a castle where the building tops and the mountains surrounding it look very mysterious and unusual to people who visit it. It has been told by the locals that in the past a king used to live here and there were mysterious things who wanted to kill him. In the end, this happened and that person lost his life. After that, there is no one who lives here but those ghost kinds of things that have occupied this place for a very long time now. If you really think that you have the guts to come to this place, then surely you may try out, but chances are very less that you will be able to stand here and see what unusual happening is taking place every day.
CONCLUSION
Mysterious and unexplored places offer you so much to learn and endure, except that you will not find the best online hotel booking offer for accommodation, no proper transport, and food source. So, all you have to do it on your own. So, make a list of these places you want to visit, then explore the possibilities of surviving over there. We highly recommend that you may not take soft-hearted people with you because they cannot stand the mystery of these places would get into some health issues. It will ruin your trip, so better avoid doing that.